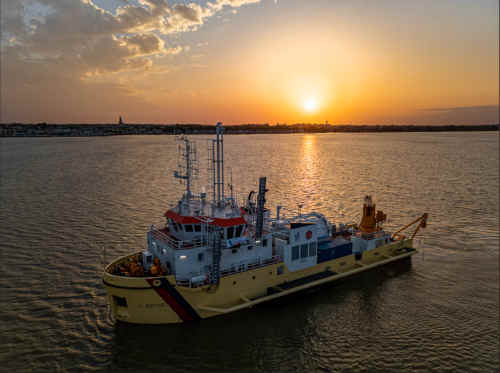 The Ostrea, France's first dredger with a propulsion system powered by liquefied natural gas (LNG), was delivered to the Port of Bordeaux on 23 July.
The Ostrea is positioned as a precursor in the development of sustainable and low-carbon maritime trade. A new generation dredger, more energy-efficient, the Ostrea is also environmentally friendly thanks to its water injection dredging method, without extracting the sediment, which it favours with the tidal wave.
Indeed, the choice of LNG makes it possible to reduce CO2 emissions by 25% and nitrogen oxide (NOx) emissions by 80%, and almost totally eliminates sulphur oxide and fine particle discharges. As the second dredger in the Port of Bordeaux with the Anita Conti, the Ostrea will make it possible to maintain over the long term the quality of nautical access for the reception of large ships.